Mordička alias Morda a někdy taky Šedka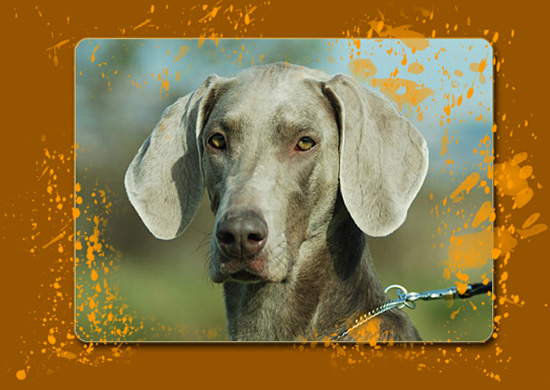 kříženec výmarského ohaře a dobrmana, * 13. 4. 2007


Jak jsem se dostala k Radeše
J?jsem se narodila ve sprchovém kout?v reprografickém studiu. Bylo to pro m?velk?překvapen? a nejenom pro m? i páníčkov?se divili, co se to děje a kde se tam bereme. Bylo nás toti?devět a nikdo nevěděl, že se narodíme. Máma s tátou to měli jako tajemstv?:-)
Za ňákej čas k nám přijela návštěva z Prahy, nějak?holky se na nás přijely podívat, jak?jsme krásn?prckov? M?si ulovila takov?sympaťanda bloňďat? hned mi padla do voka. Moj?ségru zase takov?křehoučk?brunetka. Bylo to fajn, chovaly nás, tak jsme hned usnuly.
Za ňákou dobu se tam vobjevily zas, ale to u?se mi zdálo podezřel? co se bude dít, páč byly takov?vážn? dlouho si něco říkaly s páníčkama, a pak nás chňaply, každ?jednu, a nesly nás pry?!! Vůbec sem netušila, co se děje, kam jedeme, asi únos??? Zavřely nás do auta, ta moje holka nás držela a ta druh?řídila. Měla jsem pěkn?stažen?půlky kam jedem a co nás tam ček? ale nakonec sem si řekla, s pánem bohem, děj se vůle boží a usnula jsem.
Ten den jsem se teda nastěhovala k Radeše a tam bydlím do te? Musím říct, že je to tam strašn?fajn, užijem si hrozn?legrace a jsou tu na m?hodn? Asi největší vtip jsem zatím udělala, kdy?mi Radecha koupila novej pelíšek. Mezitím co byla v práci, vyhrabala jsem skrz něj takovou díru (a to co bylo vevnit?tak krásn?rozcupovala), že kdy?se vrátila, tak se j?to líbilo, že byla dojat?skoro a?k slzám. Taky chodíme do ps?školy, abych uměla pořádn?poslouchat (i kdy?j?samozřejm?slyšim dobře, to jenom Radecha chce furt něco vylepšovat), ale naštěst?je nás hodn? takže se o jej?příze?musíme dělit :-))).
Sportovn?výsledky:
ZOP (19. 4. 2008, Helppes, Praha) ?97/100 (výborn?
ZZO (31. 5. 2008, ZKO Braník, Praha) ?56/60 (výborn?
BH (17. 11. 2008, ZKO Braník, Praha) ?57/60
Závod dle ZZO (7. 9. 2008, ZKO Tuchoraz) ?2. místo
OBZ (18. 4. 2009, Dvůr Králov?nad Labem) ?299,5 bodu (výborn? ?1. místo
OB1 (7. 8. 2010, Úhonice) ?284 bod?(výborn? ?3. místo
OB1 (2. 10. 2010, Česk?Lípa) ?276,5 bodu (výborn? ?3. místo
MČR 2010 OB1 (6. 11. 2010, Horn?Počernice, Praha) - 11. místo
OB1 (17. 7. 2011, Modřany, Praha) ?260 bod?(výborn? ?1. místo
MČR 2011 OB1 (5. 11. 2011, Praha) 276,75 bod?(výborn? - 1. místo