Kostějík alias Kostěj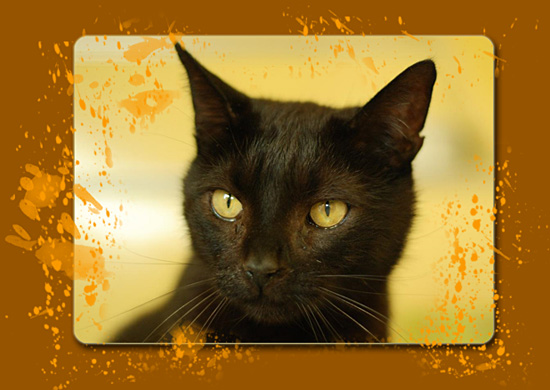 evropsk?krátkosrst?čern? * 2000


Jak jsem se dostal k Radeše
J? kdy?jsem byl úpln?maličkat?koťátko, tak jsem málem umřel. Bylo mi strašn?špatn? ležel jsem u cesty v tráv?úpln?zesláblej, prochladlej a tak unavenej, že u?jsem pomalu ani neměl sílu naříkat. Naštěst?m?našel hodnej pán, kterej poznal, že jsem hodn?nemocnej, a hned m?odvezl do nemocnice pro psy a kočky.
Vůbec jsem nevěděl, co se se mnou děje, ale bylo mi tak špatn? že jsem se ani ničemu nebránil. Dostal jsem do packy takovou kanylu, kterou mn?hned dali infúzi, protože jsem u?nechtěl ani baštit. Dostával jsem spoustu lék?a injekc? mastičky a kapičky do očíček a oušek, pořád mn?zahřívali a měřili mi teplotu.
Hodn?se o m?starala takov?hodn?šikovn?sestřička (to jsem ješt?nevěděl, že je to Radecha), kterou jsem měl brzo hrozn?rád, a vždycky, kdy?se na m?přišla podívat, hned jsem běžel ke dveřím kotečku a mňoukal jsem na n? aby měla radost. Někdy m?teda trošku štvala, hlavn? kdy?mn?pořád chtěla píchat injekce, strkat teploměr do zadečku, čistit ušiska (říkala, že tam mám nějakej svrab nebo co) a oči, kdy byl pro změnu hroznej zánět, takže to jsem se schváln?mrskal, jak nejvíc to šlo, ale ona m?zabalila do ručníku a touhle lst?m?vždycky přemohla. Jinak ale musím říct, že na m?byla hodn? a kdy?měla chvilku času, hned za mnou běžela a muchlala m? Taky si m?někdy při nočn?šoupla do kapsy (to u?by teďkonc teda nešlo) a mohl jsem s n?chodit po nemocnici a pomáhat j?
Jak jsem se pomaličku uzdravoval, začalo se řešit, co se mnou bude. Pán, kter?m?do nemocnice přivedl, si m?nechat nemohl, takže to vypadalo, že pojedu do útulku. Toho sem se dost bál, páč co jsem kde zaslechl, v útulku je spousta koček i koťat a může se tam chytit i lecjak?nemoc, takže jsem byl strašn?moc rád, kdy?Radecha řekla, že půjdu bydlet k n?dom? Takže takhle jsem se j?dostal k Radeše.